Here are the results of my Cold Sheep Project for last year. The last time I bought any yarn was February 15th, 2014***, so I am coming up on the 1 year mark soon! For the record the last yarn was this: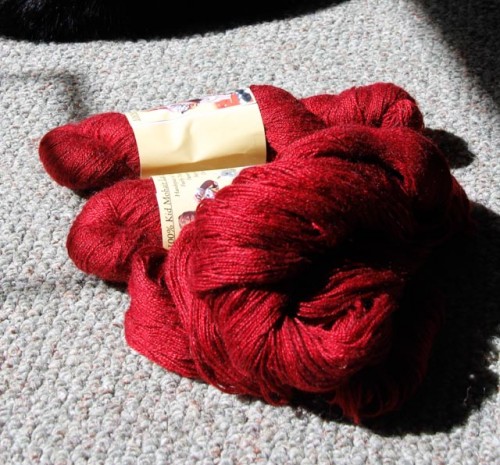 And I immediately started a lace stole and haven't worked on it since. Too many other things going on!
So, I knit or gave away a total of 4701 meters worth of yarn. I bought 1476 meters (that pretty red lace). So the net out is 3224 meters gone from stash. I have 337,503 meters left in the stash, give or take a few thousand in accounting errors. In looking at my database, there are a few yarns in there that I might not have subtracted when they were used up. It's a close enough number.
I was very tempted to buy new yarn to celebrate the new year, but I went in to my closet and looked at all of those ridiculously stuffed yarn boxes. And considered the stark reality that if I only use up 4700 meters of yarn a year, I am going to have plenty to last me for a very, very long time. I have committed to not buying yarn just because it is pretty or shiny, or because it's 11 PM and I'm bored. I might consider buying yarn for a specific purpose, such as a gift if I don't have something appropriate, but otherwise there is bound to be something in that 337,503 meters that should satisfy my new project itch.
What about you? What is the state of your stash?
***Edited later: And the blog doesn't lie, most of the time. That February date sounded wrong to me, so I searched back a bit. I bought that pretty red yarn on MARCH 16th of 2014. So I am coming up on the one year mark, just not as soon as I thought.