Here we go. I've been a slackard when it comes to blogging and knitting. I'm hereby posting photos of some of the things from the top of the heap in hopes of inspiring me to get knitting. There are a few more UFO's in the pile, but I'm not dragging them out. These are the "in progress" projects.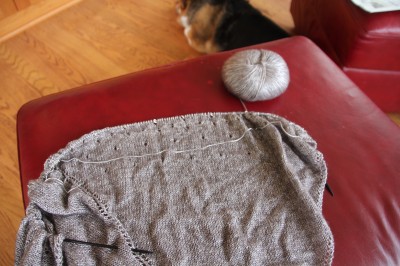 That's the Platinum Seraphim shawl. I just finished the first chart, which is mostly stockinette stitch. On to the fun part!
Oh, by the way. I had purchased an ancient version of this pattern, way back when the designer, Miriam Felton, had a different blog and website. There is a rewritten version of this that you can download automatically if you had bought it from her new website or from Ravelry. I had run into trouble with the stitch counts on one of the rows, and sent her a message on Ravelry. Literally within minutes she responded with a "fix", which was all I really needed, but she sent me a link to the pattern and had the new version in my Ravelry library waiting. I love good service!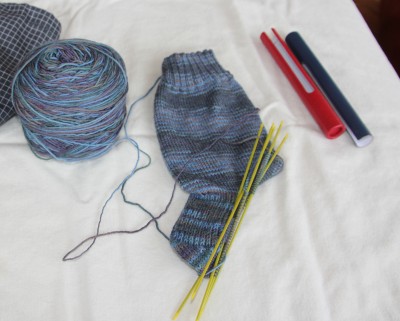 A River Runs Through It Socks, for John. That's the first sock. John's feet are about the same size as mine, but his foot is wider around the instep, so I'm doing a little widening around the gusset area so he can get them on his feet.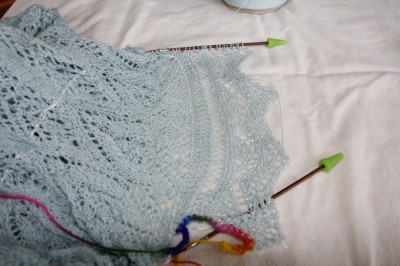 Evenstar! Beads! I have to tell you, the beads are making me pull out every swear word I know. They are very pretty though, so I'll suffer through them.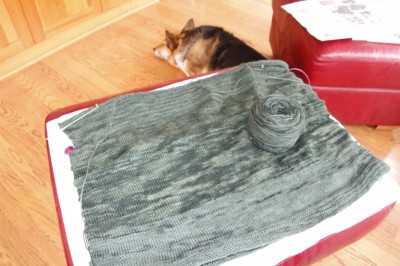 Right. Another crappy Green Jeans Corduroy photo. That yarn is just impossible to photograph attractively. It's Araucania Nature Wool, and the color is not quite solid, but not really variegated. In real life it doesn't look so horrifically splotchy. And it's hard to tell, but I've finished the bottom part and am knitting the back.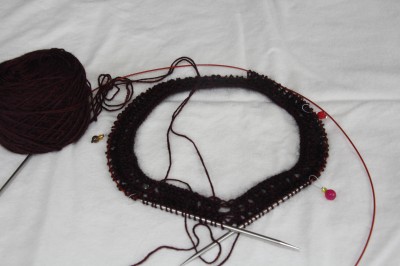 If you have too many UFOs, the only sensible thing to do is start another, right? Right. That's a Pretty Thing. I skipped right over all of February between our trip to Hawaii and when Riley got sick, but there was some Great Big Fun in there. Dorothy came to stay overnight to visit the fiber and yarn market at Madrona in February. We met Sally, the owner and inventor of the Knit Companion software. The three of us wandered by a booth with this incredibly soft yarn, then discovered that it was real MINK. We each swooned and picked out a skein, and a Pretty Thing KAL was planned. Here we are: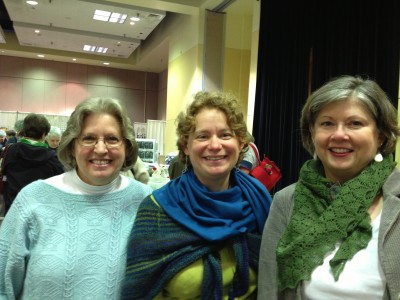 We should look happy. All three of us got a lot of loot at that market. Sally is a genius by the way. I can't imagine knitting without Knit Companion at this point. You should go check it out.
The Pretty Thing pattern calls for doing this on a 16 inch circular, which I'm not very fond of, so I found a video to teach me to knit on two circulars and took off. This will have to be frogged and restarted, unfortunately, since it looks like crap. My joins at each end are loose and wobbly, way too ugly for even me to tolerate. Part of it is my inexperience, but part of it is that this yarn has absolutely no memory, so it's not very forgiving of knitting inconsistencies. I've dug out a 16 inch circ and will bite the bullet and use that on the do-over.
By the way, those needles are Chiaogoos, which are hands down my new favorite lace needles. The tips are perfect, the needles themselves have just a touch of texture so stuff doesn't just slide off, and the cables are flexible but not too flexible. They also don't have any memory, so don't coil up on you while you are trying to knit. And the join is absolutely smooth. I dithered over whether to buy the interchangeable set or just a bunch of the fixed sizes, and decided on the latter since I mostly use the smaller sizes of needles anyway.
Things were in quite a whirl around here after Wintergrass. I realized that I had never picked my favorite artist of the festival. It just has to be Seldom Scene. We saw two of their shows, and they were just terrific as usual.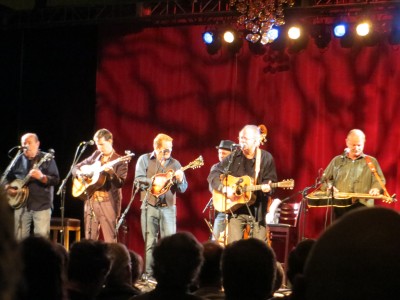 My favorite song was their rendition of Darlin' Corey. Here's a relatively recent video of them performing this. Lou Reid's voice alone is worth the ticket price to a show. If you ever get a chance to see them live, don't think about it, just go.
Last but not least, Riley came home for good today. We decided to have her cremated, and the vet that did the home euthanasia brought her ashes back today. It was a bittersweet moment, but we're glad we paid extra to do this.