Just a quick post to show my "Tuesday Sky". What a difference from the photo yesterday.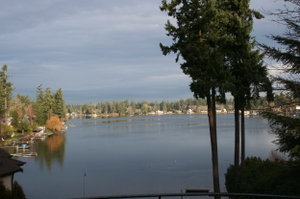 Yes, that's the same lake. With sunshine. Contrary to popular belief, it doesn't rain all the time in the Pacific Northwest. It's actually not the rain that gets to you, it's the gloomy, gray skies, day after day, all winter. Every once in awhile we get one of these (the weather guy calls them "sunbreaks"), and it tides us over through another month of gray days. I have a feeling that this particular sunbreak isn't going to last long, as the sky is mostly clouds, but I can enjoy it while it lasts.
So what am I going to do with that glorious sun? Well, it's still only in the low 40's outside, so I might just look at it from the comfort of my knitting chair. This is one of my "off" weeks in my work schedule, so I plan on getting lots of knitting done. I might even get dressed at some point today.