I don't usually do the Ten on Tuesday post, mostly because by the time I get around to it, it's already Friday and I've missed it. I couldn't resist this one though. Carole wants us to list ten cars that we've owned. I won't get to ten, only because I haven't had that many!
I'm going to do this in reverse chronologic order. And the current ones are the only ones I have photos of.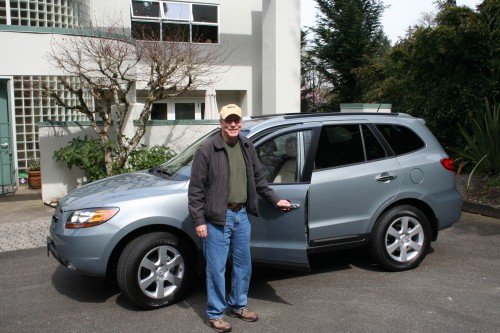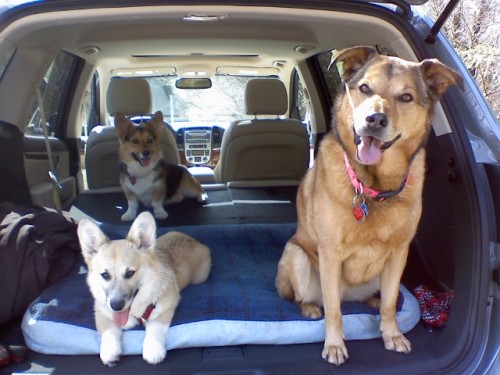 10. This is technically John's car, though my name is on the registration too, so it counts. It's a 2008 Hyundai Santa Fe. It is dog-approved.
9. My ride.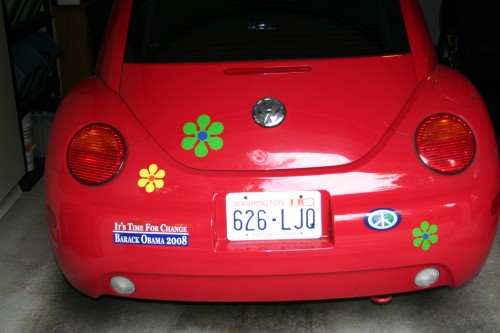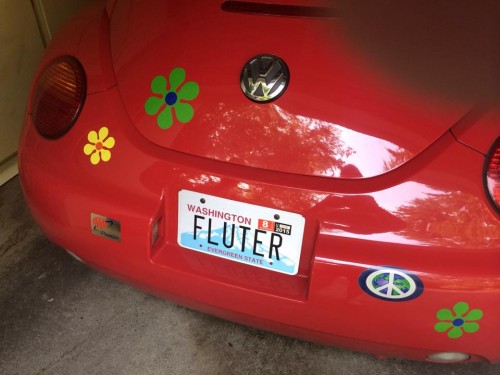 That last one is the current license plate! This is a 1998 Volkswagen Beetle. Yes, I drive a '98. It won't quit, so I keep driving it. As it gets more dinged up, I just get more hippie stickers to cover the bumps and bruises.
8. An ancient Volvo sedan that was mostly John's car, but I owned half of it. He got it used and drove it until it was almost dead.
7. Early 90's Subaru Legacy wagon. It replaced–
6. Another Subaru wagon. This was about a 1982 model. I drove it until it dropped dead one day in the parking lot at work. It was towed in, they gave me $150 in trade in, mostly because the tires were still good.
5. Let's see. Brief co-ownership of a Toyota Celica in the early 80's. We only had it a couple of years, it was pretty but didn't handle Montana winters very well.
4. Another VW Beetle, co-owned with my then-spouse. It was a 74 Love Bug, in a color that we lovingly called eagle-shit green. This one got rode hard, and finally totaled in a crash.
That's it. That's pretty pitiful. I can't even get to ten, and most of those technically belonged/belong to spouses. I drove two Subarus into the ground, and I'm working on that VW. I'm thinking my next car might be another Subaru.