That "free yarn" in the title always draws out the lurkers!
So it's been a whole decade since I've been sharing my knitting, spinning, goofy knitting mistakes, cooking, and traveling, along with a lot of other fun along the way. It's actually fun to go back through and read old entries to remind me of all that's gone on around here in the last decade.
In honor of all of you sticking around for so long, there will be free yarn. LOTS of free yarn. I mentioned cake before, but couldn't figure out how to upload that, so you "just" get yarn.
The contest rules? All you need to do is tell me your top FOUR knitting patterns. It can be for shawls, one-skein wonders, socks, whatever. It doesn't have to be something you have knit before, it could be on your "want to do eventually" list, or even "love it but will never knit it" list. Go crazy, surprise me!
I'll let this run until the end of the weekend, so let's say you have until Sunday March 30th at midnight Pacific time. Then I'll draw a winner at random. Your entry has to have FOUR different knitting patterns mentioned in order to qualify.
Want to know what you're playing for? I thought so. Here's a selection of My Pretties from the stash.
Door Number 1: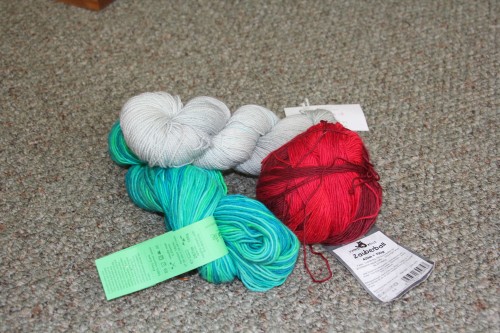 First up is a skein of Jitterbug sock yarn in Lagoon, a skein of Yarntini sock yarn in Gin, and Zauberball sock yarn in Cranberries. Each is enough for a pair of socks.
Next: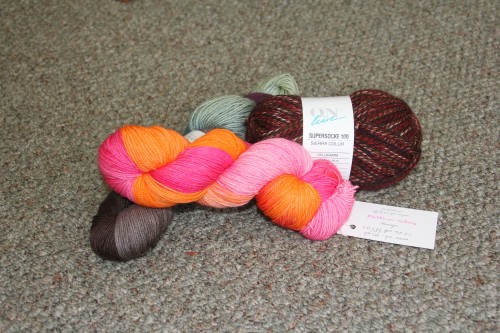 This
Behind Door Number 2 is a package with the following; a skein of Online Supersocke in Sierra, a skein of Yarntini sock in Sangria, and hiding behind those two is a skein of Lorna's Laces Solemate, in Christmas at Downton. Each of these is also enough for a pair of socks.
Door Number 3: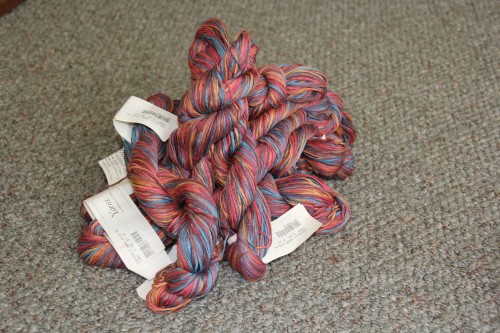 This is a whole big pile of Ironstone Infinity ribbon yarn. The color isn't named, but the photo is pretty true on my monitor. There are 9 skeins, a total of about 1400 yards.
Last but not least, Door Number 4: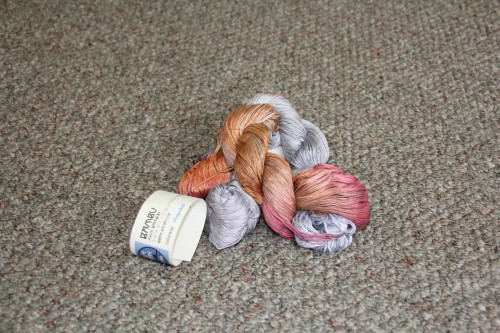 Two skeins of Blue Moon Fiber Arts Bambu, this is 800 yards total, 100% bamboo in the color Henpecked.
The winner will get to choose ONE of those four packages! And I get to put the other three packages back in the stash (my precccciiiooouuusssss).
As a disclaimer, all of these are complete skeins and have been lovingly stored, but they do live in a house with assorted cats, dogs, and dust bunnies. If you are deathly allergic to any of those pets, take this as your only warning.