Well, it's all over. I still have banjos ringing in my ears, but Wintergrass is done for another year. 2010 tickets are already on sale, and though I haven't gotten mine just yet, I will soon. Gotta get those early-bird prices, you know!
Highlights of Saturday and Sunday? The festival Saturday ran all afternoon and evening, at five different venues in and around the hotel, including the Rialto, an early 20th century movie house that has been restored as a performance hall. That venue, as well as one of the oldest Baptist churches downtown, are likely everybody's favorites, both audience and performers.
My favorites on Saturday included another Mike Marshall group, Choro Famoso. He had a Brazilian mandolin player, Danilo Brito, playing with him. They played a whole set of mostly choro music which was just fabulous. Another one of those surprise groups was Cody Bryant and the Riders of the Purple Sage, playing good old fashioned cowboy music. They were a lot of fun to listen to.
Sunday's festival was just at the main pavilion, and started out with a bluegrass gospel show, then finished up with Laurie Lewis, the Isaacs, and Blue Highway. I would have trouble picking just one of those as a favorite, though I'd never heard the Isaacs live, and they are just terrific performers.
Best of the weekend? This year it's nearly an impossible choice, which is a good thing. In the not-quite-bluegrass category, it would have to be Mike Marshall and Choro Famoso, though there were a lot of very close seconds. In the more mainstream bluegrass category, Blue Highway is my favorite, though again, it's a tough choice!
In the category of festival knitting, here are my winners: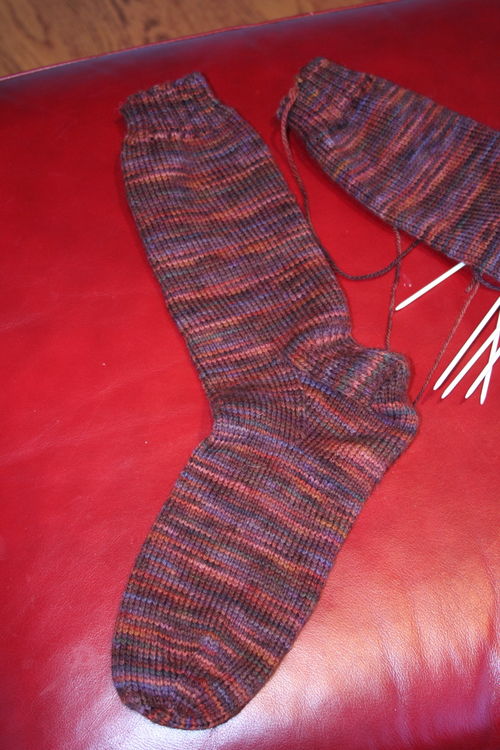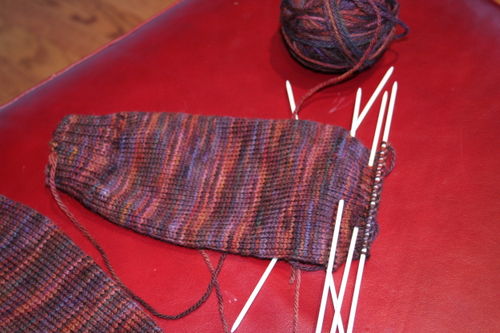 I finished one sock and grafted the toe on Saturday (during Choro Famoso!), and then got the whole cuff of the second sock done yesterday. Since John likes his socks a little longer, I knitted the cuff of the first one as long as I dared. Yesterday I started getting a little concerned about yardage, so out came the trusty scale. I weighed the first sock, then the second half-done sock and the remaining yarn, then subtracted the weight of the needles.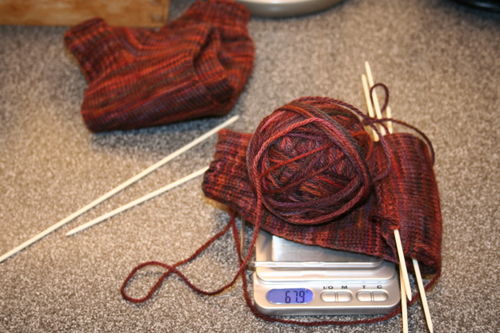 Enough to finish the second sock, with several grams to spare! Whew!