Here's what's on the table this week. Note that I almost missed the photo opportunity. I left this out to cool before putting it in a storage bag, and before I knew it, a third of the loaf was gone.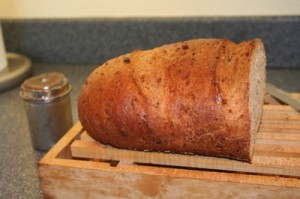 Pecan Maple Buttermilk Bread
1 Tbl butter
3 Tbl maple syrup
1 cup water
1 1/2 cup white bread flour
1 1/2 cup whole wheat flour
4 Tbl buttermilk powder
1 tsp salt
2 1/2 tsp yeast
1 1/2 Tbl gluten flour
2/3 cup golden raisins
2/3cup chopped pecans
I made the dough in the bread machine, and added the raisins and pecans towards the end of the kneading process so they didn't get too mashed up. Knead it a bit by hand before you shape the loaf if you need to so that the fruit and nuts are dispersed evenly. It was baked at 350 degrees to an inside temp of 190 degrees (use an instant read thermometer). My oven runs a bit hot, so you might need to up your oven temp to 375.
Go here for my generic bread instructions.
You could add more or less syrup to taste, or use molasses for a little different flavor. You could also use different nuts, walnuts would be great, but I had pecans so that's what I used. If you can't find some of those ingredients, check out this online store. This bread is lovely toasted, with either cinnamon sugar or jam on top.
For something similar, but with a little less of a free-form recipe, check out Rose's Cranberry Walnut bread from a couple of days ago. She uses a starter with hers, so it takes longer.
After reading her instructions for the cranberry bread, I realized why my Daily Bread turned out a bit dense this time. She suggests adding the fruit by hand, not in the bread machine, as it breaks up and will result in a compact loaf. So next time I make this, I'll let the bread go through the initial dough cycle, and then take the bread out of the machine and add the raisins before it goes through the first rise.
Enjoy!