AKA,
Dog Mittens!
And here they are!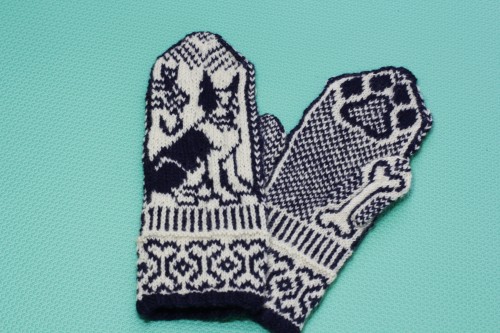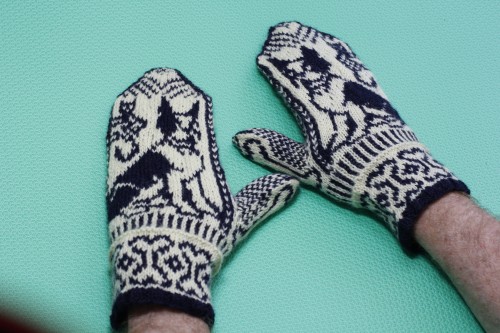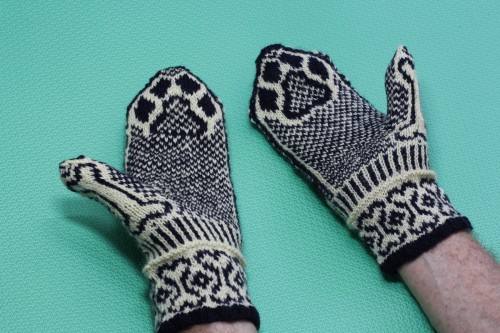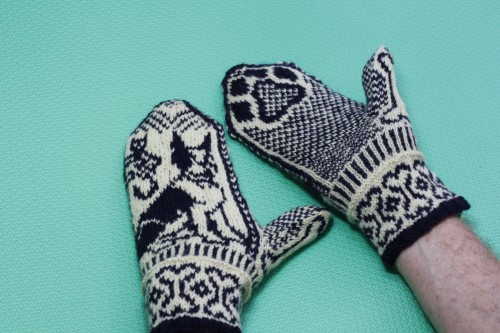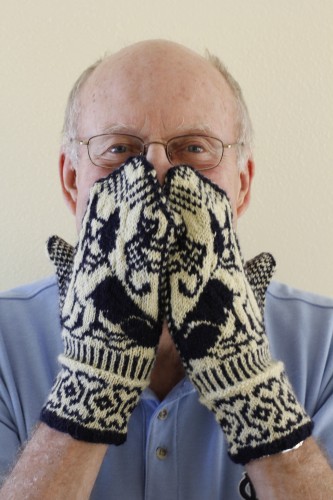 Project Details:
Pattern: Dog Mittens by Jorid Linvik
Yarn: Rauma Finullgarn, 1 skein dark navy, and 1 skein cream. Very nice yarn for stranded knitting. It's not the smoothest shiniest stuff on the block, but it sticks together nicely, colors don't bleed, and it blocks beautifully. This is where I got it, I think. There are many fine colors to choose from. It's not the least expensive yarn of this type you can buy, but it's great quality. The yarn was consistent, there wasn't a single knot or thin spot. It's firmly enough spun that I don't think pilling will be much of a problem.
Needles: 2.75 mm KnitPicks double points
Started: December 5, 2008
Finished: July 4th, 2014
For: John!
What I Learned: It really shouldn't take so long to knit a pair of mittens. These were a heap of fun to knit, and once I loaded the charts into Knit Companion, it was a lot easier to keep track of where I was. I learned that it makes a difference which hand you hold which color in two color knitting. I also learned gradually to keep my "floats" in the back looser so things don't get bunched up. I also found out that if it takes you nearly six years to knit a stinking pair of mittens, your gauge is likely going to change from one mitten to the next one. Blocking fixed that just fine.
Verdict: I love them, John loves them. They are already stashed in his drawer, ready for the next cold spell.*
*Winter is Coming–