I guess I'll fix those damned socks after all. As of right now, the vote is 64 to 48 in favor of darning the holes in the Ugliest Socks Of All Time. Interestingly, the vote in the comments was overwhelmingly in favor of tossing them out. There are some lurkers out there who want these things mended, apparently.
Of course, now that I've gone through all this angst over the holey socks, John now thinks new socks would be better after all. Maybe I'll do both. I need to find some kind of ugly yarn that "matches" the ugly brown Wool-ease. I am so not buying new yarn for this, so it's going to be non-matchy, thus making them even uglier, if possible.
If anybody pays attention to my sidebar, there was a little "whoops" this month. The Great Stash Knit-Down has apparently turned into the Great Stash Buy-Up. The net number went into a negative this morning after I added a little bag of yarn that I had added to the stash this past month. I'm blaming it on Kris. Sonny & Shear had that blasted end-of-the-year inventory sale, and some of the bargains were too good to pass up. Do you want to see some of it? Of course you do!
This is one of my favorites. It's Imperial Stock Ranch Sock Yarn, in Wild Iris. This is just the loveliest "wooly" wool, the kind you want to just bury your nose in. Kris still has some of this stuff left, though not in this color. Go buy some, so I don't feel so guilty.
This is Dream In Color Baby, in the color In Vino Veritas. It's a heavier weight lace yarn, almost fingering. Who knows what this will be, but I couldn't resist the name. I already have some of the Smooshy sock yarn in this exact same color, so I can have a matching shawl and socks. Cool!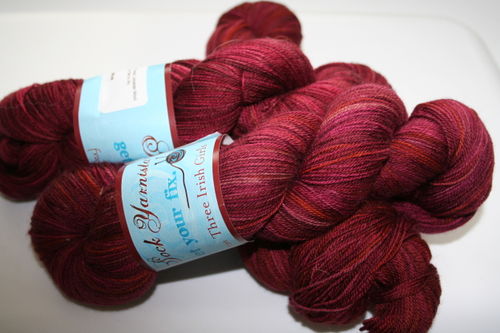 Last but not least is more shawl yarn. This isn't from Kris, but from Sharon from Three Irish Girls. I'm a member of the Sock Yarnista sock club, and this was the December offering. Sharon solicitated color names from members on Ravelry, then dyed yarn to match the most popular name. It's called Mulled Wine. Of course, only one skein of this was included in the sock club, but I bought a couple extra so I could have enough to make a shawl. I'm thinking Cluaranach, by Anne Hanson of Knitspot.
Of course there was more, but I'm not showing it just now. I need to go knit like a banshee* to get that net number back into the positive range.
*Do banshees really knit? If so, can I get one to help out around here?