Well crap. This is just what I needed, another project on the needles. You remember that purply-blue Peace Fleece from my last post, right? Well I really couldn't control myself from casting on. There are all those Ravelry Peace Fleece group members that are doing their KAL, so I thought it would be unfriendly of me not to join in. Yeah, that's my story and I'm sticking to it. That's the ticket, I'm just being neighborly.
I started with an ordinary long tail cast on, didn't like it, ripped out. I decided to figure out how to do a tubular cast on. There are apparently more ways to do this than you might imagine. June Hemmons Hiatt (Principles of Knitting) sort of lifts her nose up in the air and sniffs at all of them. It seems like a tubular cast on is not for good old June, despite the fact that she details about a gazillion different cast ons in her book. Out came the Vogue knitting book, and pretty soon I had it figured out. There is also a nice explanation on Knitty here.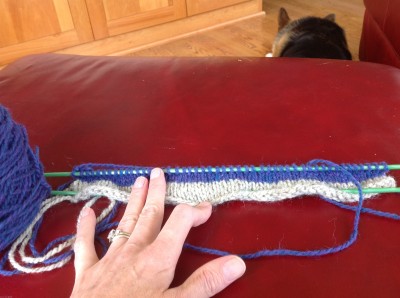 Cast on half the stitches you need for your ribbing. You knit a few rows with a contrasting waste yarn. Please make sure that there is really a CONTRAST in your contrast yarn. You'll see why later. Then you knit four more rows with your "real" yarn, ending with a knit row.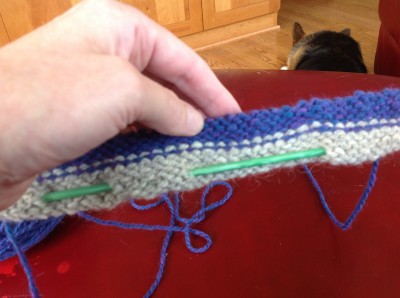 Now you start your ribbing on the "wrong" side. You purl one stitch off your needle, then dip down into that row of purple purl bumps, pick up that stitch, and knit it through the back of the loop. Click on the photos to make them bigger so you can see.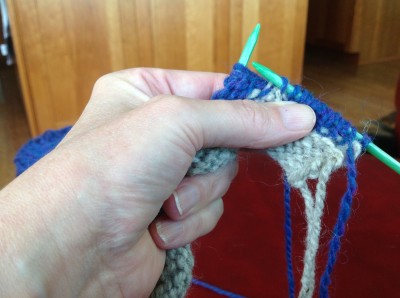 Keep going with knit one purl one until you are done. The last knit stitch is really just half of a purl bump at the very edge.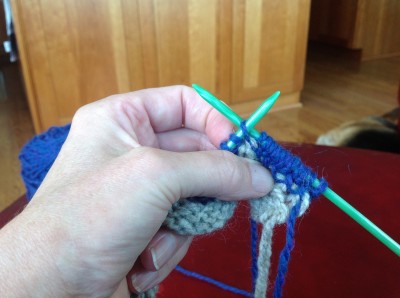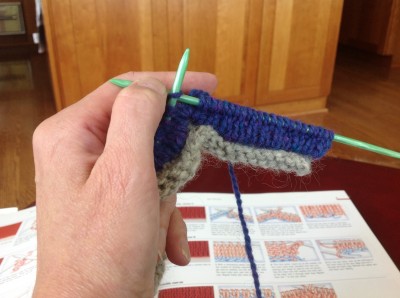 Now you can start your ribbing. Knit the knits, purl the purls, and then you are ready to snip out your waste yarn. Here is where you will be glad you started with a really contrasting yarn.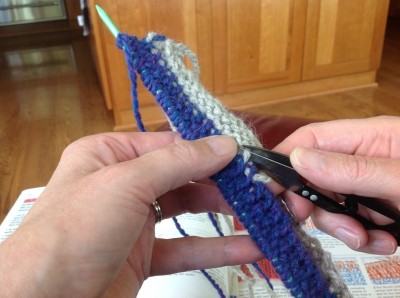 Really, click on that photo. You'll be glad you did. Cutting your knitting! It's wonderful! Try not to cut the "real" yarn stitches. That would really suck.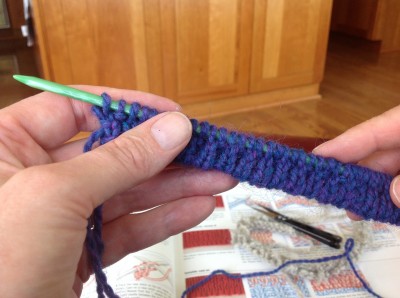 And you have a very nice edge for the bottom of your sweater! Please excuse my poor excuse for a manicure. Yes, I have been known to trim my fingernails with my knitting snips. What can I say, I'm more into function than beauty.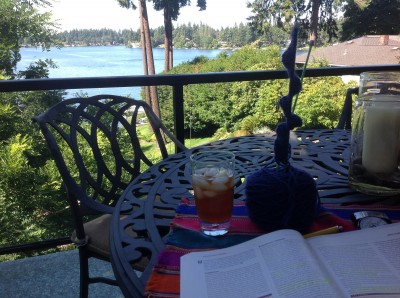 Back to studying!* I scheduled this week as an education week, so I'm home studying for hours a day. I'm just enough of a nerd that I actually find this enjoyable, though there are a few too many distractions around here for my own good. If I finish reading my cardiology module, I've promised myself a little knitting as a reward.
*And yes, that is iced tea up there. Even I am not delusional enough to think I can remember anything about valvular heart disease after a glass or two of wine.