We're back from the Great California Train trip of 2007, and boy, do I have pictures. The trip was a blast, and I'd definitely do Amtrak again. We took the Coast Starlight from Tacoma to Los Angeles, then drove to Newport Beach, where we had a condo a little ways from the water. We flew home yesterday, and I finally sort of have my act together to post a few photos. We booked a "roomette" for the trip, which is two seats facing each other in a compartment that has a big window and a sliding door to the train corridor. At night, the two seats fold down for a single bed, and a bunk folds down from above for the second bed. We slept in this type of room the last time we were on Amtrak several years ago, and it is cramped but better than sleeping sitting up in a chair. The bathroom and shower are down the hall, and shared.
After we got on the train, we asked about upgrading to a larger compartment. Just as a tip, if you do this, you are definitely risking that there won't be a larger room available, especially during the busier travel seasons, but they quite frequently will upgrade you for much less than you would pay by booking it directly. Fortunately, they had one "luxury" compartment available all the way to LA, and we were first to ask. These rooms still have bunk beds, but the compartment is about twice the size, and has a bathroom/shower combo that is just barely big enough to stand up in and turn around to rinse off. It works, though.  Here's the train pulling in to the Tacoma station: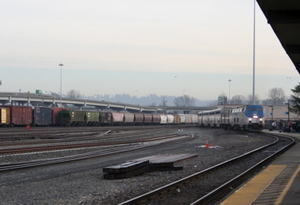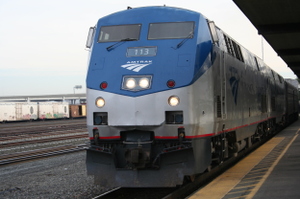 The Coast Starlight route goes by the water through Tacoma, then cuts inland for awhile until you get into California. Much of the route through CA goes right by the water. Here's a view of both the new and old Tacoma Narrows Bridges. The one on the left is the new one, in the process of being built.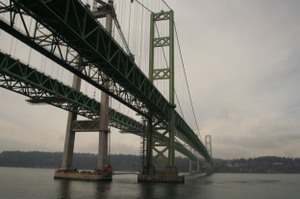 Here I am, settling in to the compartment for the long trip.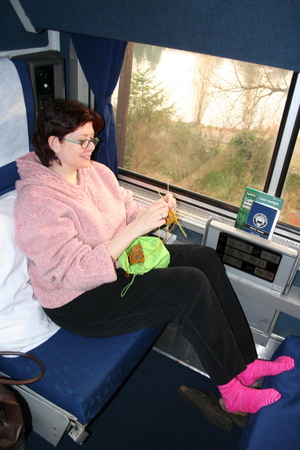 Of course, Sweetpea got to go along. That's John in the mirror of our compartment.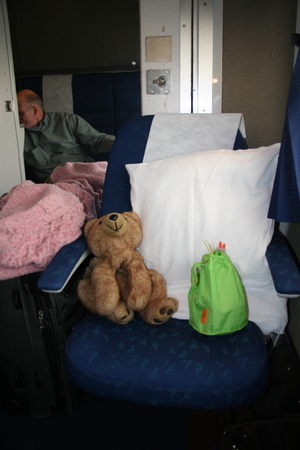 I did a little knitting in the observation car, along the coast.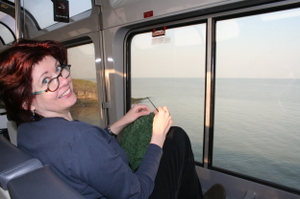 The "first class" compartments (the cars with the sleepers) normally have a separate parlor car, which is supposedly pretty fancy, but they are all offline for renovation. We'll just have to plan another trip, I guess. They do have wine tasting on this route, every afternoon, for the "sleeper people". Here we are enjoying a glass.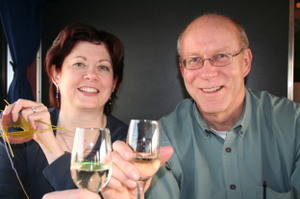 All your meals are included when you book a sleeper. You get to share the table with another couple while you are eating, so we met some interesting people on the route. The Coast Starlight is notorious for being late, but it seems to be getting better. We were only about 90 minutes late getting into LA, but as this was strictly a pleasure jaunt, the time issue didn't bother us.
Here's a photo of the first sunset from the balcony of our condo.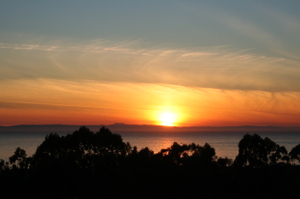 Our first lunch was at the Crab Cooker, which is sort of an institution in Newport. Fortunately, it wasn't very busy when we were there.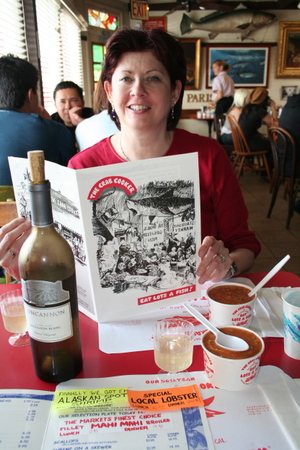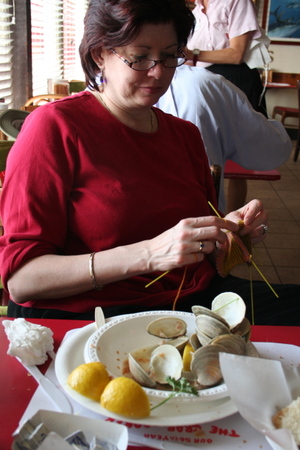 We met up with friends from Germany that just happened to be in Newport on family business. It was purely coincidence, and we only found out that they were going to be there a week before we left home. Strange, indeed. They spent one night at our condo, and we had a couple of lunches together as well. We played a killer game of Mexican Train the night they stayed with us. Here's me concentrating.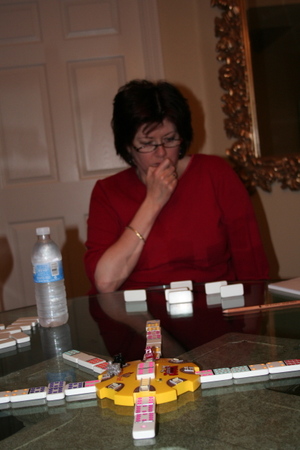 I still lost. And don't let that water bottle worry you. The bourbon glass just didn't make it into the photo.
Guess where we ate?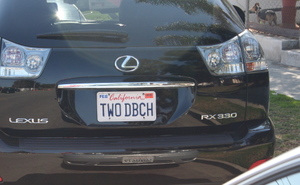 Mmmmm. Two double-doubles, with cheese, and chocolate shakes. Worth the whole train trip, right there.
We walked on the beach: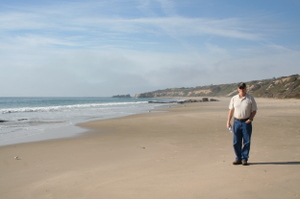 We took a boat tour of the Newport Harbor: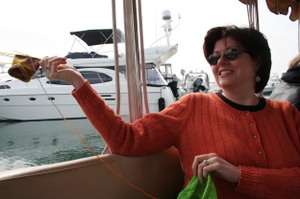 …With our friends from Germany: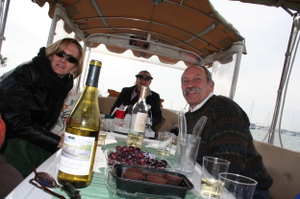 We saw more sunsets, this one on Laguna Beach: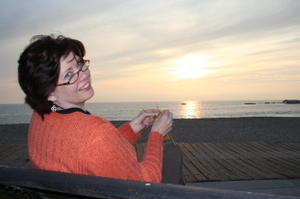 I'll post the rest of the pictures later this week when I get them sorted out. There might also be a knitting update photo or two! How exciting!
——————————————————————————-
In even more exciting news, my friend Kris, the Knitting Wannabe, and her husband Dana have opened up an online yarn shop, Sonny and Shear.
Go, shop! I am on this crazy yarn fast, and can't shop again until the 15th, but I've got my credit card number memorized and I'm ready. Buy enough yarn to keep her in business. I am overjoyed to no end to have a friend who owns a real yarn shop. I need to get a sign that says "will work for yarn".