FINALLY! This one is done done done. Excuse me if I must post a gazillion photos, I'm so freaking happy this is finished.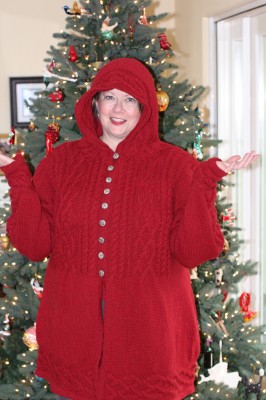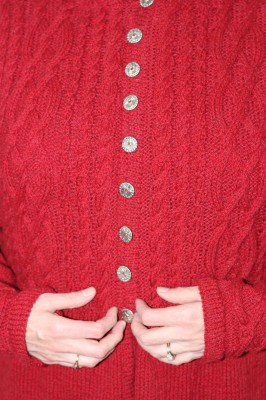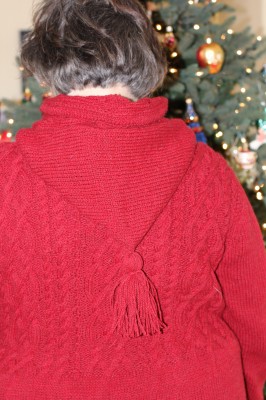 I've never made a tassel before! I used a piece of cardboard to wind the yarn around, using these instructions.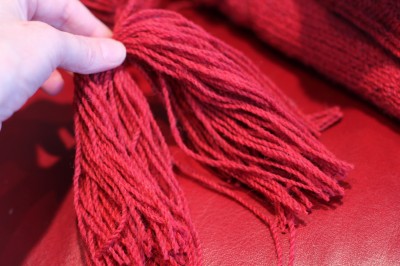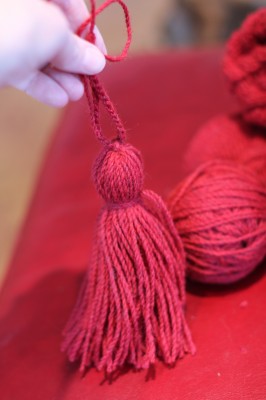 I used the sweater yarn to crochet a tight single chain for the button loops, then just tied them into the button band from the back side.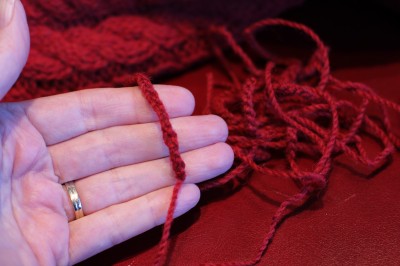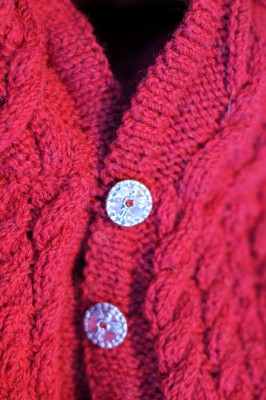 Project Details:
Pattern: Tuilich Faery Ring, by Mary Scott Huff
Started: 11/2/2009. Yes, this was in a very long time out.
Finished: Today! 1/3/13! First finished project of the year!
Yarn: Black Water Abbey worsted weight. The color name is Haw, though in real life it is a True Blood Red.
Needles: Knit Picks Zephyr, size 6 & 7.
For: Me!
Modifications: Well. I pretty much knit the pattern as written up to the hood and sleeves, then just winged it from there, since the pattern was never completed in the Tuilich sizes. I used the sleeve pattern from the largest size in the Faery Ring pattern, and just made up the hood. The hood instructions for the smaller set of sizes called for a bigger hood for each size, which is just ridiculous. Your head doesn't get a whole lot bigger as the rest of you expands. I just picked up what looked like the right number of stitches around the neck, then increased until it was wide enough, decreased a bit, then grafted the top when it was tall enough.
What I learned: I love cables. And I love this yarn. I have another sweater quantity of it in the stash in a warm caramel toffee color that will turn into a sweater someday. The yarn feels a bit stringy and harsh initially, but softens up, and shows cables marvelously. I also adore these buttons. They were made by a goldsmith named Carolyn Kent, her website is Minnowcreek Studio.
Alrighty then. Now that that one is done, here are my New Years resolutions, such as they are:
Read more. See my reading blog page for details
Knit from stash. John and I have been going through our credit card expenditures to set up a 2013 budget. Let's just say that the amount of money I spent on yarn last year is quite embarrassing. I'm not ruling out the occasional yarn purchase, especially if it's in the category of vacation purchases, but I've got plenty of yarn around here and I'm going to try to use some of it.
Blog more. I'm going to go back to doing monthly updates and goals.
Spin more. And get back into dyeing fiber and yarn.
That's pretty much it.
Here are the January goals:
Finish the body of my Green Jeans sweater
Finish the pair of socks on the needles (Pot 'o Gold socks)
In the cooking category, here are the photos of our New Years BEPs (black eyed peas). You didn't think we'd forget them, did you?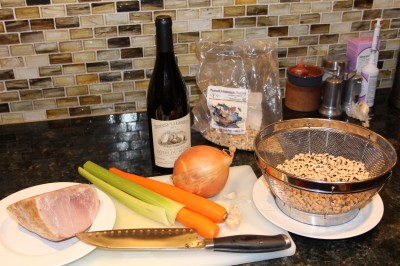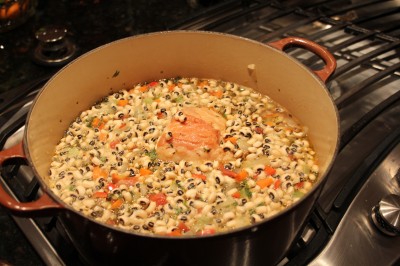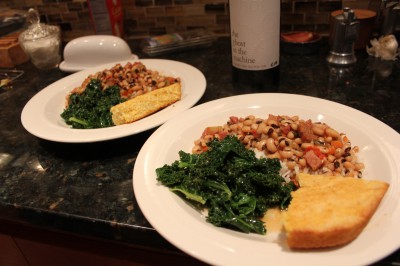 Onward!