Finished!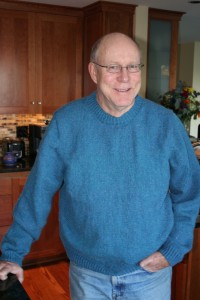 I finished the knitting on that pesky collar yesterday, then decided to do a grafted tubular bind off, which I've never done before. That was more fun than a barrel of monkeys, once I figured it out. Here are the details, followed by some photos of the bind off process.
Project Details:
Yarn: Beaverslide Dry Goods worsted weight wool, color Lake Josephine.
Pattern: Jerry-rigged sweater pattern, mostly from Sweater Wizard.
Needles: Knitpicks Options wood needles,  size 5 & 6.
Started: November 9th, 2008, according to Ravelry, who never lies about these things. Good grief. Almost a freaking year to knit a plain stocking stitch sweater.
Finished: Today!
For: My sweetiepie, John! Doesn't he look dashing in blue? He wouldn't even let me have it back long enough to block those seams.
What I learned: Basic is best. Stockinette socks, stockinette sweaters, I never tire of them. I also learned how to do a tubular bind off. Here's proof.
You can do this with 1×1 ribbing. After you do your last row, separate the stitches on 2 needles (circulars here, as it was the collar). Knit stitches go on the front needle, purls on the back. Make sure you line them up correctly when you start this. In this case I started and ripped this thing twice before I figured that out.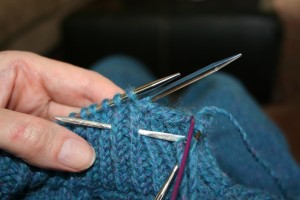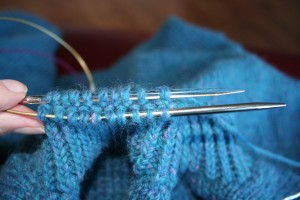 Then you just graft the front stitches with the back stitches using kitchener stitch, just like you would do with a sock toe. It is exactly the same process. Here's what you end up with.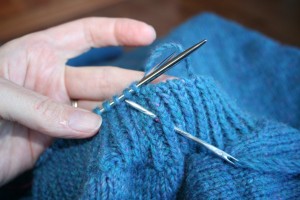 Pretty, eh? I did this using Nancie Wiseman's instructions in the Knitter's Book of Finishing Techniques. After I finished it, I googled "tubular bind off" and found a couple of places that describe this, but with the addition of four prep rows before you graft. I think it would be even prettier that way, but I'm not redoing it. Next time, I'll do it that way, and show the difference. Don't hold your breath, though. You know how long it takes me to knit a sweater.
Here's my latest gadget for you all, since I know you count on me to find the best gadgets.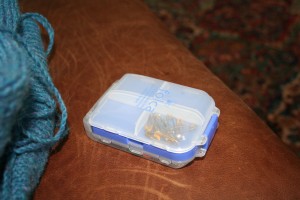 And inside?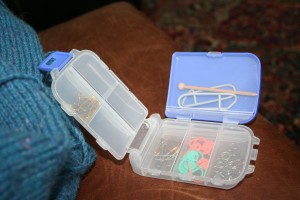 Cute, huh. Go here to get yours while they last. They make great gifts.
And now that that's finished, I've started on the Red Faery. I did a real gauge swatch, got gauge with size 7 needles, and I've done the first row of the bottom cable. More on that next post!