First off, thanks for all the nice compliments on the Forest Canopy shawl. It's reblocking as I write this, for a couple of reasons. I blocked it in a bit of a hurry, and it was a little wonky. I also soaked it in my favorite woolwash, Kookaburra Delicate, but was in such a hurry that I forgot to rinse it. I think it might have been OK to leave it, but I wasn't certain, so I redid it and rinsed it this time. I also got a little more stretch in the process. The final size is about 74 inches across the top, and 35 inches from neck to tip.
I got a couple more questions about the blocking mats that I use. Every time I show these I get a request for info, so I should probably put the link in my sidebar. They are the interlocking foam mats that most people use in kids playrooms. I bought mine online, from Wonder Mat, and got 16 of the 2 foot squares, along with edge pieces. This makes a huge mat, way more than I need for most blocking, but I also use them when John's grandkids come to visit. We just cover the floor downstairs and they can romp at will. The mats do show holes eventually, but that doesn't bother me in the least.
Now it's on to Langsjal Jóhönnu. Here's how you do the diacritic marks, at least on a Mac. Type option-e, let it go, then the letter you want the accent mark on. For the umlaut, type option-u, then the letter. I think the option key has the same function as the alt key on a Windows keyboard, but a Windows expert would have to weigh in on this one.
Here's a photo, very roughly pinned out to give you some idea of what LJ will look like: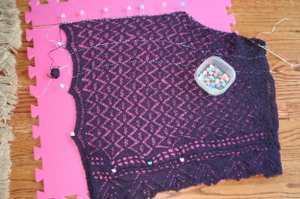 I am using lifelines on this one, as it's pretty easy to get off track on this and screw it up. There is no easy purl-back row on this, all 10 rows of the pattern repeat are full of yo's and decreases.
Now to the "Uh,oh". A while back, Fleegle was kind enough to post a link to a Chinese online shop selling ridiculously cheap cashmere and cashmere-silk lace yarn. Of course I jumped. It arrived this week. First of all, the service was perfect. I got a prompt confirmation with a note that the standard shipping takes about 30 days. It actually only took about 12 days for mine. I ordered the cashmere-silk, 1600 yards worth of a lovely pink.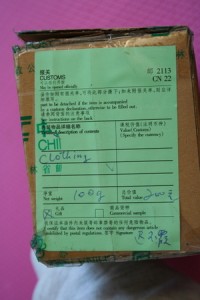 Note the "clothing" (wink, wink) on the customs form. This didn't fool my husband in the least. Neither did the little checkbox that says "gift".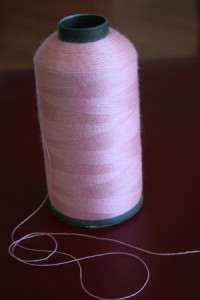 And just how fine is that yarn, you might ask?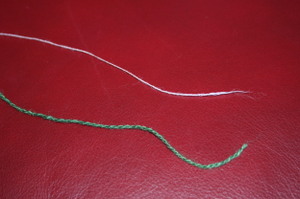 That's the green Zephyr I used for the Forest Canopy shawl. The pink stuff is 800 yards per 50 grams, and the straight cashmere they sell, at 500 yards per 50 grams, is probably a little more like a real laceweight than sewing thread. Their regular price for both varieties is $9.99, and some of the colors are on sale for $6.99. You could get a damn big shawl for cheap with this stuff. Go buy some, so I don't feel silly buying pink cobwebs from China. I do have an idea for what this might be someday, but I'm keeping it under my hat for now.