Catchy title, eh? What can I say, at least I'm posting.
First up, work. I started the new job this past week, and I couldn't be happier. (Happy, Happy, Happy, that's the new motto around here.) I think it will be a good match all the way around. Of course, so far it hasn't been particular grueling. The first day was "on-boarding", or assimilation* as we call it around the Knitting Doctor household. I learned all sorts of stuff essential to the new practice group, and got a nice gift basket at the end of the day.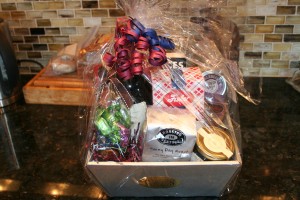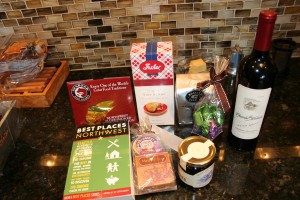 Notice the wine. I think they've heard about me.
The next two days were computer training. The new practice is all computerized, so I had to get up to speed quickly with their electronic medical record. Fortunately I'm a nerd and can play on the computer for days without getting bored, so that's been easy so far. Thursday and Friday was more orientation in the local office where I'll actually be practicing, and I got a warm welcome from the nursing staff that was quite encouraging. I actually saw a few patients, and that went well. Next week is more of the same. I'll spend the first few weeks seeing just a few patients a day in the office, so I can get comfortable with the computer stuff, then I go into the regular rotation of both office and hospital work. I'll be at the same hospital that I've been at for the last nine years, so that shouldn't be too much of an adjustment. I'll keep you all up to date!
On the knitting front, I'm not posting any photos. I'm working on those Peony socks, but slowly. This past week hasn't been particularly busy, but I have been distracted by the job change. I've also done a few more repeats on the Faery cable, but it really doesn't look any different than the last time, just a little longer.
Shopping update: I went to the office supply store today to get a few things for my new office desk, and found these.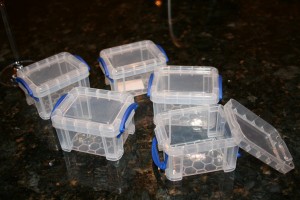 I don't have the receipt in front of me, but they were under $10 for the stack. They are about 3 or 4 inches across at most, and lock shut, so you can put little knitting gadgets in them. I'm sure they were intended for paper clips or something.
Finally, the spinning update. I haven't burned the wheel and spindles in the back yard in frustration, though there was a bit of alpaca a couple of weeks ago that made the thought cross my mind. Then I made this. It's still wet from the finishing process, so looks a bit bedraggled, but I think it turned out OK.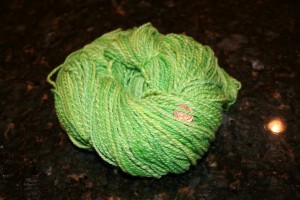 It's about a worsted weight, and the fiber is Barrister Lane Fiber Rococo, I can't find the band at the moment, but John has dubbed this Squashed Frog. I got it from Kris at Sonny & Shear. Click on that to make it bigger. I'm getting better at this, really.
Last but not least is a purchase I made in Ireland that I forgot to show you. Click on this one too.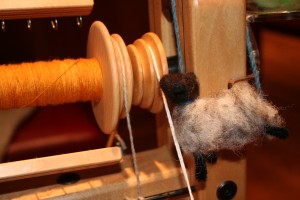 Seamus the wheel got his own sheep. Doesn't every spinning wheel need a good-luck sheep?
I'm off to rescue the sweet potatoes from the oven.
*"We are Borg, resistance is futile You will be assimilated."