Yes, it's that time of year again. Wintergrass, the annual bluegrass festival held in Tacoma, starts tonight and runs through Sunday evening. As usual, I have tickets for the entire festival. I also have my knitting lined up.
The Peacock Shawl is not one of the things that I'll be taking. It's not so difficult that I can't work on it when chatting or being sociable, but it is definitely not something I'd want to work on in near darkness while the fiddles are playing. Here are a couple of progress photos.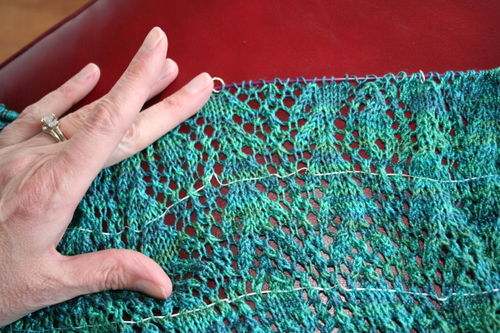 It's just really difficult to get a good photo of this at this point. It is going to be one huge shawl when it's done, since the pattern calls for laceweight yarn, and this stuff (Blue Heron Mercerized Cotton) is somewhere between a heavy laceweight and fingering weight. I have 50-some rows to go, and the rows are close to 400 stitches at this point. It's taking me a little over half an hour to get across one of the knit-side rows. The wrong-side purl rows go a little faster, but not much.
What I am taking to Wintergrass is socks. I have two pairs of socks in progress, both at a point where I can just knit around and around in circles mindlessly. I'm also still working on that True Blue sweater, and have just finished the back and have the front started so I can knit away on that as well for a little variety. I'll show photos of those next time.
I'll leave you with a photo of Lewey. He frequently can be found sitting by our kitchen windows, with his chin resting on the window ledge. He just likes watching the animal activity in the back yard, especially the birds.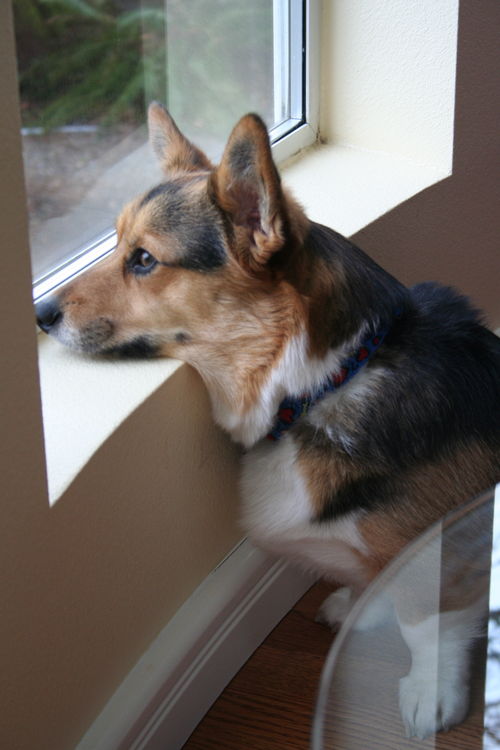 I'm off to listen to the banjos!