As usual, the first evening of Wintergrass brought some great entertainment. The festival starts Thursday night, then continues Friday evening, most of the day and evening on Saturday, and all day on Sunday. Thursday is sort of the "warmup" session, but there are always a couple of "sleeper" groups that turn out to be great. Last night the Tallboys, a string band from Seattle, were my favorite. It's an old time string band, and as they point out, are neither all boys, nor all tall. They have fiddle, banjo, bass, and a clogger girl. What more could you want in a group?
The other hit of the evening was Mike Marshall and one of the many group iterations that he plays in. This particular group was the Big Trio, playing acoustic string music that is difficult to pigeonhole into one genre. Mike is also playing with a Brazilian acoustic group tomorrow, and that should be terrific as well.
As to knitting, I worked on True Blue last night. I've finished the back piece, and cast on the front so I was ready for the evening. I managed to just finish the bottom ribbing and the increases last night, so now I'm ready to just knit mindlessly back and forth on the body without having to pay much attention. The ribbing is a twisted rib (P1, K1tbl on the front, K1, P1tbl on the back), so I had a bit of trouble with it in the dark, but from here on it should be easy. Here are photos.
The back, done.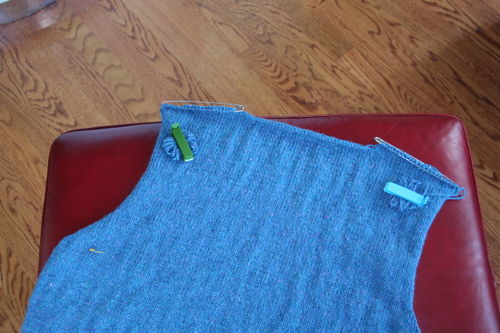 Those little clips holding the extra yarn on the shoulders? They are from a set of bag clips that we got at Ikea. The smaller ones are just a little too small to work well on food bags, but are perfect for this application!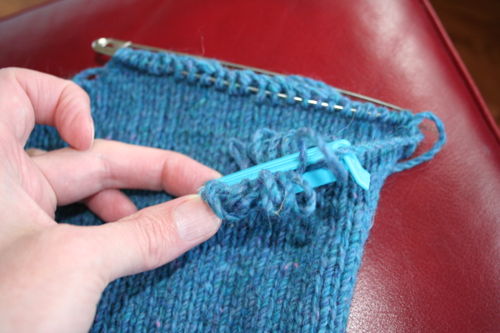 Ribbing done: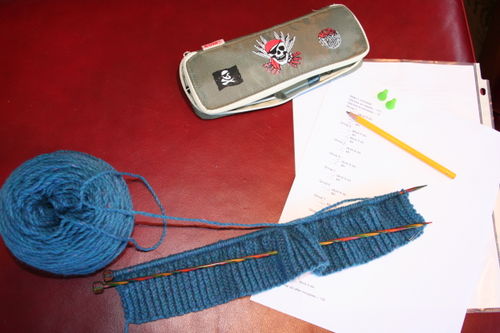 What? You don't have a pirate pencil case??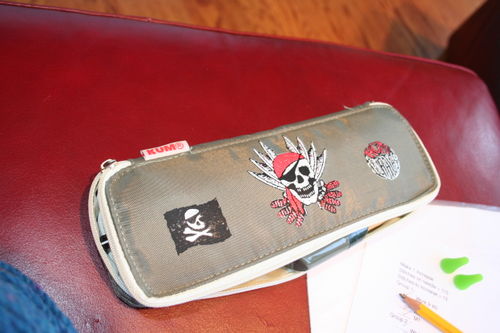 I suppose you want to see inside, too.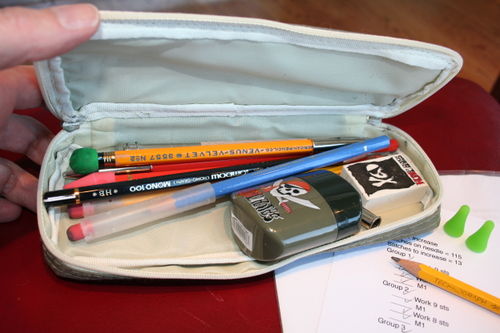 Well, of course it came with the pirate pencil sharpener and the pirate eraser.
Arrrgggh, matey. I'm ready for the weekend.