Wow! I know those "Free Yarn" posts always get lots of comments, but you guys just overwhelmed me! If you haven't gone back to the prior post, please do and read the comments. There are lots of terrific pattern ideas in there.
So, you all want to hear about the winning entry, right? First you get to hear about my WIP* Weekend. I REALLY really want to start knitting with that fabulous red lace yarn that I posted a couple weeks ago. But I already have 3 shawls on the needles, including two that are years old. So I dragged out one of them this weekend to work on it.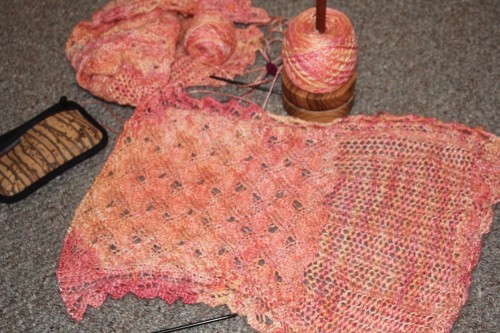 This is Morning Glory. It's a rectangular shawl in two parts, grafted together in the middle. The first part is done, though I have quite a bit of yarn left. I'm tempted to make each half one repeat longer. We'll see. I'm a couple repeats away from finishing the second half, and I'm pretty good and sick of this. The yarn color is Froot Loops, though I think it looks like a Tequila Sunrise.
Now, on to what you all came for: the yarn prize winner. The Random Number Generator chose: MK, otherwise known as Merry Karma, you win the reward challenge! Congratulations! These were the four patterns she recommended:
Elphaba (the pullover), Ishbel Shawl, Honey Cowl and Storm Water Shawl
You will recall the rules: you get to pick ONE of those four prize packages in my last post. Let me know what you choose, and I'll get the prize off to you!
Thanks, everybody, for playing along. Eventually I'll get around to making a big list of those patterns, but there are some gems in there, so really, go check them out.
*WIP= Work In Progress, for you non-knitters